by Lisa Johnson of Brides by Lisa – Nashville Bridal Makeup Artist
Of course I'm going to say YES! …and here is why:
Let's face it – you've spent a pretty fortune on the venue, photographer, your dresses, flowers, food, entertainment and all the little details that go into your wedding day.  You're more than likely hiring a hairstylist.  Your bridal makeup is generally the last touch before dressing and walking down the aisle.
As a professional makeup artist, I know what makeup works for photography AND in natural light. I believe everyone in my makeup chair should look fresh, beautiful and uniquely them – which is why I craft a personalized look for my clients.
To help you visualize, look at my portfolio of work and you will see many looks – not just one style. This shows my range as an artist. This advice goes for any artist's work you are considering.
I work on location at your venue, and that saves you so much stress and running around. I bring my professional kit full of hand-picked, camera-ready makeup and skincare products that work for all ages, all skin tones and needs.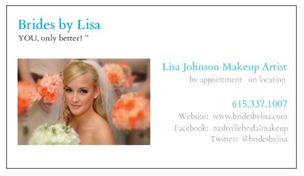 I'm well known not only for my beautiful bridal makeup but also for my women over 40+ clients – and you know your mothers (aunts and grandmothers) will feel especially beautiful knowing they look amazing.  Plus it's an incredible bonding experience and memory you all will always share.
Having professional makeup really helps when you're being photographed – and you ARE being photographed like no other day of your life on your wedding day.  You also have the added bonus of a cohesive look for your valuable photography.  Simply put, you're all gussied up with your finery and heading to the church and reception after – all looking gorgeous!
I've been lucky enough to have worked with hundreds of brides over the years and I consider it an honor to help each bride look their very best. It's why I do what I do.  So if what I've told you helps you consider professional makeup for your wedding day – hire me as your artist and I promise to show you how beautiful you are.
­­­­­­­­­­­­­­­­­­­­­­­­­­­­­­­­­­­­­­­­­­­­­­­­­___________________________________________________________________________
Lisa Johnson is a Nashville-based makeup artist working in the fields of commercial, beauty, print ad and high definition media. She grew upin both artist meccas of California – Los Angeles and San Francisco – and is formally trained in color theory, painting and art. Known for her clean makeup style, attention to detail and high definition expertise – Lisa stays on the cutting edge through industry workshops and passionate practice of her craft.  You can find her commercial work online at www.lisajohnsonmua.com and wedding portfolio with gallery, reviews and pricing at www.bridesbylisa.com – Brides by Lisa  is Wedding Wire's 2011, 2010 and 2009's Bridal Award Winner for Beauty in Nashville, TN.